A smattering of Fainting Goat's Clients:
We're Fainting Goat -- a boutique website and advertising design firm in Madison Wisconsin -- and we work with all types of companies.
We have a special talent with helping start-ups to launch their own enterprise.
Innovative Waters, Madison
First Weber - The See Team, Middleton
Playwright - James Alshamma, Santa Barbara
360 Panorama Real Estate, Santa Barbara
Googins, Anton Financial Advisors, Middleton & Madison
Pirate's Cove, Wisconsin Dells
Multimedia Arts Department, Santa Barbara
Ward Construction, Santa Barbara
The Virtual Library, University of Missouri
Water in Motion, Los Angeles
Peggy Linton, Santa Barbara
Pure Green Systems, New Orleans
Missouri Dept. of Highway Safety
The Haiti Project.org, Milwaukee
First Weber - Steve Larsen, Middleton
Singing Rooster.org Haitian Coffee, Madison
The Yellow Ottoman, Madison
Books Build Hope, Milwaukee
My Home Altar, Ojai
The University of Wisconsin
Jean Piper, DDS, Madison
St. Andrew's, Madison
Falls and Walls Landscaping, Minneapolis
National Habitat, Madison
Relate Now, Spring Green
Urso. Construction, McFarland
Keller Williams - Randy Lenz, Madison
SEQUATE, Madison
Blue Crane Boat Works, Monona
Cap City Tree, Monona
Timberline Guys, Mc Farland
Midwest Cremation Service, Poynette
Polk Diesel, DeForest
The Tascon Group, Middleton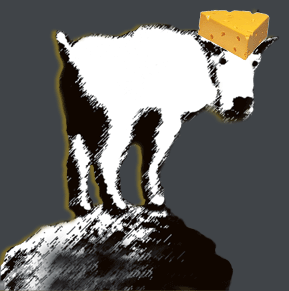 We may not be the biggest cheese in town, but we hold our own.
Fainting Goat is a small, boutique firm that offers great service, practical & economical solutions, and in-depth knowledge of the field.
We work across the continuum -- from start-ups to the established -- and we do it all: conceptualize, develop, implement.

Starting a new business? Or need a new look? We do that.

Logo? Yep.
Business card, letterhead, envelope? Sure.

Email stationery, campaigns? Of course.
Websites with high ranking?


We pride ourselves on this one.

Photography? Uh huh.
Is there anything you won't do? Yes.